Braces help correct crooked, uneven, misaligned, or crowded teeth.
Today's braces are far from the bulky, metallic appliances you might have seen before. They're more comfortable to wear and also come in different kinds.
Here at Mckenzie Towne Family Dental in SE Calgary, we provide orthodontic services, such as braces.
Types of Braces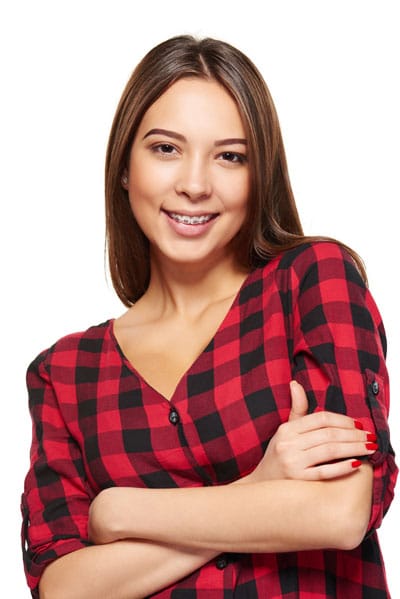 Traditional Braces. The traditional braces use metal brackets that are bonded to the teeth and are connected by wire. They're now smaller and sleeker as compared to the old appliances. Periodic adjustments every 4-6 weeks are still necessary to apply pressure on the teeth and jaw. Some braces also include colored rubber bands that allow young patients to express themselves and add fun to the treatment. Traditional braces remain the most common and least expensive type of braces. Their downside is that they're easily noticeable, which can be uncomfortable to some.
Ceramic braces. If you want an effect similar to the traditional braces but more discreet, you may consider getting ceramic braces. Unlike metal braces, ceramic braces use clear or tooth-colored brackets, making them less visible. They're still attached to the front teeth surfaces, but you won't notice them as much.
Lingual braces. Lingual braces are the same as traditional braces except that they're attached at the back of the teeth. They're not easily seen, but the challenge is keeping them clean. They may also feel uncomfortable at first and adjustment may take longer too.
How Do Braces Work?
Braces work by applying pressure on the teeth to move them and reshape the bone.
The brackets are the small square tools that are attached to the teeth and serve as handles for the archwires. Brackets come in different types and you may choose one depending on your personal preference or the condition of your teeth.
The archwires, on the other hand, are made of metal and guide the teeth as they move throughout the treatment procedure.
How long you need to wear braces depends on your case - how severe the misalignment is, how far the teeth have to move to get to their desired position, or how committed you are to the procedure.
But generally, patients wear them from 12-24 months. Your dentist sees you around every month or as you've discussed to adjust your braces and check the progress you're making.
After completing the treatment, you'll need to wear retainers to keep the teeth in place.
The mechanism is the same for both teens and adults. However, more treatments may be needed for adults as the bones are already fully grown.
Are Braces Painful?
Braces may feel uncomfortable at first and may also leave your mouth sore. Taking over-the-counter pain relievers should help, but if the discomfort or pain persists, let your dentist know. Your braces may need to be readjusted.
Caring for Braces
Wearing braces requires adjustments. You need to pay more attention to your teeth and food choices. It's best to avoid or minimize the intake of hard, crunchy, and sticky food that can cling onto or damage the device. Gentle brushing is also necessary to avoid breaking the brackets or wires.
If your band, wires, or brackets come off, we can take care of that for you with a quick visit to the dental office. It may be comfortable, but most of the time, it isn't serious.
Getting Traditional Braces in SE Calgary
To know more about traditional braces and other orthodontic options that you may consider, contact our dental team at (403) 257-1180.
Our friendly receptionists are happy to help you schedule an initial consultation and answer any dental-related questions that you may have. Straighten your smile, improve your oral health, and boost your confidence. Get started today.